In picturesque Los Angeles, members of the Hollywood elite understand that finding the perfect balance between work and play is the ultimate key to succeeding in the biz.
Finding a fabulous venue to host a business lunch, networking conference, or fundraising event can be the difference between a so-so event and a stellar one. So we've made it our mission to put a spotlight on out-of-this-world venues in the Los Angeles area that are ideal for everything from client dinners to charity auctions.
One more upside to visiting these amazing LA venues? They're some of the most star-studded spots in California! Keep your eyes open wide when you go to these vibrant venues and you just might see some celebrities!
Chateau Marmont
The legendary Chateau Marmontis Los Angeles' secret slice of paradise; since its creation in 1929, it has entranced some of LA's most-adored celebrities, including the likes of Lady Gaga, Lana Del Rey, and the late Anthony Bourdain.
A-listers flock to this magnificent venue for its grandiose amenities, 5-star dining options, and perhaps most notably, its elusive location— the hotel is tucked discreetly behind an elegant canopy of lush foliage along the Sunset Strip, making it the perfect location for celebrities to temporarily step away from the hustle and bustle of the red carpet and embrace all of LA's luxuries at a relaxed, more indulgent pace.
An extensive list of amenities are provided to the Chateau Marmont's guests, including a heated private pool on the hotel's sun patio, in-room massages, access to an intimate dining room and garden terrace for breakfast, lunch, and dinner, luxury pet amenities for furry friends of the Chateau, and much more!
With a prime location less than two miles away from the Hollywood Walk of Fame, Madame Tussauds, the Dolby Theater, The Magic Castle, and the Roxy Theatre West Hollywood, this extravagant LA venue is one that lovers of the limelight will treasure forever.
Nobu Malibu
This hip, high-class eatery is known just as much for its mouthwatering Japanese cuisine as it is for the highly-coveted oceanfront view of Malibu that guests are treated to when dining here.
Nobu Malibuis one of the most instagrammed restaurants in the world—and with good reason—everything on the menu, from the juicy tuna cilantro salad to the perfectly-cooked Maine lobster with spicy garlic, is crafted to look visually impeccable while simultaneously dazzling one's taste buds like never before.
This venue is a favorite of some of LA's brightest stars: Arnold Schwarzenegger, Kris Jenner, and Robert De Niro (who loves Nobu Malibu so much, he even co-founded the restaurant!) have been spotted dining within Nobu's sought-after Private Fireplace Den by fellow restaurant patrons on more than one occasion.
Gjelina
If you're an Italian food aficionado, then you'll love Gjelina—this trendy restaurant on Abbot Kinney Boulevard, one of the hottest spots in the Venice neighborhood, boasts an impressive wine list, a delectable selection of cheeses, salads, and oysters, and above all else, some of the best thin-crust pizza pies that Los Angeles has to offer.
From Gjelina's traditional dining options (like their beloved mixed mushroom and rosemary pizza) to the more adventurous (their caramelized fennel salami and mozzarella pizza, for instance), Gjelina offers up something deliciously unique for everyone.
This venue's interior serves up charming, rustic décor, like large wooden tables and plenty of natural light, and a lovely outdoor patio area perfect for enjoying a picture-perfect afternoon brunch with associates.
Paparazzi have been known to catch the occasional snapshot of members of LA royalty enjoying Gjelina's delicious pizzas, including stars like Leonardo DiCaprio, Natalie Portman, Tom Hanks, and many more.
CATCH
CATCH has a renowned status as one of the toughest restaurants to get into in Los Angeles, but if you can manage to snag a reservation at this elite rooftop seafood haven in West Hollywood, it'll most certainly be worth the effort.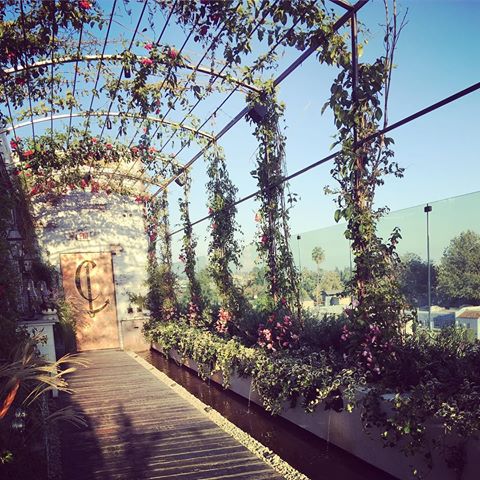 A-list models and music moguls like John Legend, Kendall Jenner, Gigi Hadid, and Chrissy Teigen have flocked to CATCH to take in breathtaking views of downtown LA underneath the venue's retractable rooftop while enjoying the restaurant's marveled-after dishes that feature local and sustainable ingredients and unbeatable flavors.
This restaurant is home to a raw oyster bar, a stellar wine and cocktail menu, and delicious, signature dishes like vegan sweet potato gnocchi with crispy kale and flavorful lobster mac & cheese with mascarpone, freshly grated parmesan, and breadcrumbs.
CATCH has an assortment of one-of-a-kind private and semi-private spaces in the dining room area with elegant, contemporary décor perfect for hosting meetings and events that will leave guests in awe.
To host your next event at any of these unique venues, let GMS do the arm twisting to get you in.